Add to cart

High-speed and reliable print quality
---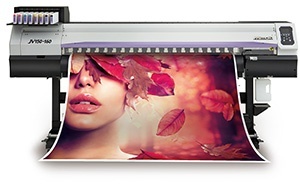 Mimaki's superior print-image quality control technology
・Highly reliable inkjet technology optimizes waveform to achieve the precise placement of the ink droplets onto media.
・MAPS3 reduces banding and uneven color printing.
・Three-way intelligent heater system optimizes the ink droplets size.

Continuous print operation solutions
・Automatic clogged nozzle detection, Nozzle recovery system (NRS), and E-mail notification function.

Orange and light black inks create high-value-added printing
・SS21 orange and light black inks available.
---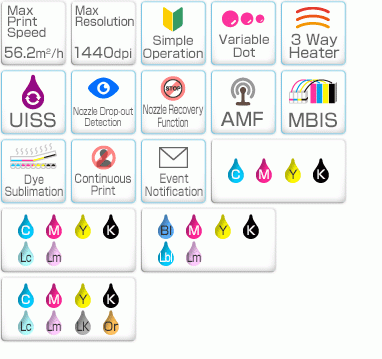 ---
Production Example of JV150 Series
---
*Click to view larger image.
| | | | | | | |
| --- | --- | --- | --- | --- | --- | --- |
| | | | | | | |
| Outdoor signboard | | Poster | | Illumination signboard | | Banner |

Specifications
JV150-130
JV150-160
Printhead
On-demand piezo head
Print resolution
360 dpi, 540 dpi, 720 dpi, 1,080 dpi, and 1,440 dpi
Maximum print width
1,361mm (53.6")
1,610mm (63.4")
Maximum media width
1,371mm (54.0")
1,620mm (63.8")
Ink
Type/Color
Eco-solvent ink
・SS21(C,M,Y,K,Lc,Lm,Lk, and Or)
・BS3(C,M,Y, and K) only available in emerging countries
・ES3(C,M,Y,K,Lc, and Lm)
Sublimation ink
・Sb53(Bl,M,Y,K/Dk,Lbl, and Lm)
・Sb54(Bl,M,Y,K,Lbl, and Lm)
Package size *1
SS21:440ml Ink cartridge / 2L Ink pack
BS3:600ml Ink pack / 2L Ink pack
ES3:440ml Ink cartridge
Sb53, Sb54:440ml Ink cartridge / 2L Ink pack
Media thickness
1.0 mm or less
Rolled media weight
40 kg (88 lb) or less
Certifications
VCCI class A, FCC class A, ETL UL 60950-1
CE Marking (EMC, Low voltage, Machinery directive, and RoHS),
CB, REACH, Energy Star, RCM
(CCC is in the process of being acquired.)
Interface
USB 2.0, LAN
Power supply
Single-phase (AC 100–120V / AC 220–240V±10%)  50/60Hz±1Hz
Power consumption
1,440W×1 or less (at AC 100V system)
1,920W×1 or less (at AC 200V system)
Operational environment
Temperature: 20–30 °C (68–86 °F)
Humidity: 35–65% Rh (Non condensing)
Dimensions (W×D×H)
2,525mm×700mm×1,392mm
(99"×28"×55")
2,775mm×700mm×1,392mm
(109"×28"×55")
Weight
160 kg (353 lb)
185 kg (408 lb)
*1 Optional Mimaki bulk ink system 3 (MBIS3) is required for using 2L Ink pack.
Ink set
SS21
[C,M,Y,K,Lc,Lm,Lk,Or]
C M Y K
C M Y K Lc Lm Lk Or
BS3
[C,M,Y,K]
C M Y K
ES3
[C,M,Y,K,Lc,Lm]
C M Y K
C M Y K Lc Lm
Sb53
[Bl,M,Y,K/Dk,Lbl,Lm]
Bl M Y K/Dk
Bl M Y K/Dk Lbl Lm
Sb54
[Bl,M,Y,K,Lbl,Lm]
Bl M Y K
Bl M Y K Lbl Lm
Some of the screens and printing samples in this website are artificial renderings.
Specifications are subject to change without notice.
All trademarks or registered trademarks are the property of their respective owners.
Inkjet printers print using extremely fine dots, thus colors may vary slightly following replacement of the printing heads. Also note that if using multiple printer units, colors may vary slightly among the units due to slight individual differences among the units.
JV150 Series

Mimaki's superior print-image quality control technology
Highly-assured inkjet technology
Each ink color has its own specific gravity and viscosity. To achieve precise placement of the ink droplets onto the media, Mimaki designed an optimum waveform that allows the printhead to jet each ink color at the appropriate jetting angle without losing excellent ink droplet circularity. Moreover, various ink droplet sizes are precisely placed from the minimum size 4pl to the maximum size 35pl. Small droplets create beautiful high-resolution printing, and large droplets are very useful for high-speed printing. Thus, the JV150 satisfies a wide range of needs including beautiful high-quality printing and productive high-speed printing.
---

---
Mimaki Advanced Pass System 3 (MAPS3) delivers stable high-quality printing
---

Generally, swath boundaries are straight lines. Therefore, a slight misalignment between boundaries causes banding or uneven color printing. MAPS3 reduces banding and uneven color printing with blurred boundaries similar to gradation printing.
---
Three-way intelligent heater system optimizes the ink droplets size.
---
When the temperature of the media is not optimized, the perfect shape and size of droplets are not appropriately adhered onto the media. A patented three-way intelligent heater is built into the JV150, and each heater maintains the temperature appropriately to obtain high-quality printing. The details of each heater are given in Figures below.

■Patent number■  Japan: 4889059  USA: 8,444,262  China: ZL 200910222559.8
---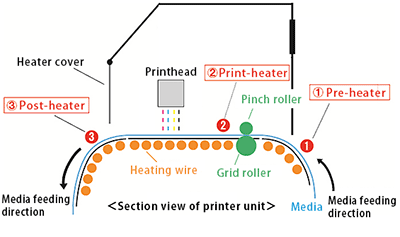 ① Pre-heater
Preheats the media to the appropriate temperature before printing.

② Print-heater
Maintains the temperature to produce vibrant colors and improves adhesion of ink droplets onto the media.

③ Post-heater
Enhances ink dryness, prevents ink bleeding, and secures stable media take-up.
---
Solutions for uninterrupted print operation
---
Quick-dry SS21 ink that achieves outstanding speed
SS21 ink was developed through the concentrated knowledge and technology of Mimaki. The SS21 ink dries quickly on the media due to a good balance between ink penetration and solvent volatilization. High productivity is achieved through high-density printing at high-speed modes without blocking and bleeding.
---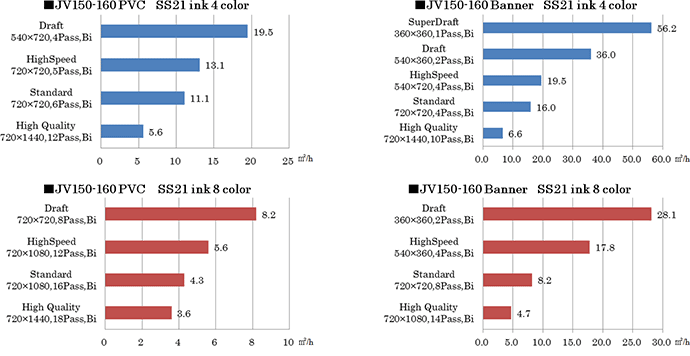 ---
Nozzle check unit (NCU) automatically detects clogged nozzles and unclogs them.
Clogged nozzles are detected automatically by monitoring ink droplets with sensors. When clogged nozzles are found, the nozzles are automatically cleaned. A monitoring interval is set for each print dataset at specified time intervals. The NCU reduces waste printing after the occurrence of clogged nozzles.
Nozzle recovery system (NRS) for maintaining productivity
Previously, when the issue was not resolved after nozzle cleaning, the printhead needed to be repaired by a technician, and printing operation had to be stopped until the maintenance work was completed. The NRS allows the printer to continue print operations without interruption by using non-defective nozzles as substitutes for defective nozzles until the technician arrives.
---
SS21 ink creates value-added printings
---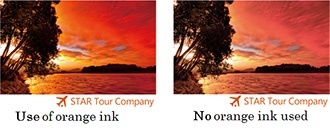 Orange ink broadens the range of color representation.
By using the newly developed SS21 orange ink as a process color, 94.8% of the PANTONE color chart is covered with approximate colors. Thanks to a wider gamut with the orange ink, food freshness can be simulated, and corporate colors can be faithfully represented.
---
Light black ink assists in beautiful monochrome image printing.
---
The newly developed SS21 light black ink and superior gray-balance control produce accurate grayscale printing without unexpected color shifts. Smooth and non-grainy skin tones and grayscale gradation are delivered.
---

---
Safety low odor eco-solvent ink [ES3]
Safeness, low odor and high- weatherability are achieved with relatively low polarity solvent.
Unlike water-based inks, the ES3 doesn't require coated media for printing and thus a production becomes more cost effective.
Sublimation ink Sb53 achieves high-density printing.
Sb53 ink is a sublimation ink that produces bright colors and enables high-density printing. The ideal print material is polyester, which is used for apparel fabric, sports uniforms, and swimsuits.