Add to cart


- 1,280 nozzles per head ( 4 x 320 nozzles per row).
- Non-grainy and high image quality is reproduced using variable dots with a minimum of 7 picoliter drop.
High Tech
- High productivity reduces ink consumption, realizing excellent running cost.
- The substantial maintenance function makes it possible to maintain high quality print.
Feature of SWJ-320
---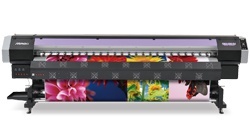 Ultimate high performance.
Mimaki High definition quality.
Advanced nozzle recovery function to ensure continuous operation.
Signature Mimaki maintainability.
Prints for all markets.
---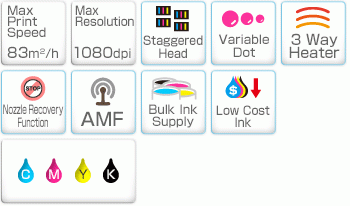 Two models available
High-speed model
---

Standard model
---

---
Head configuration
---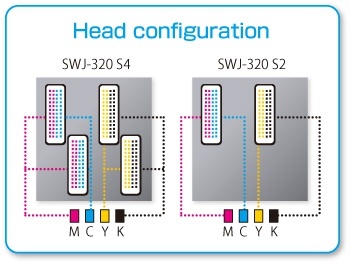 ---
Print speed
---
---
Proven High resolution and quality print
---
Variable dot print with a minimum dot size of 7 pl
---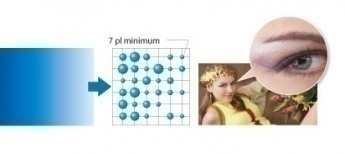 Three different dot sizes (7 pl minimum) and the maximum resolution (1,080x1,200 dpi) ensures beautiful print results without a grainy appearance. World proven Mimaki technology creates unbeatable high denition and resolution print.
---
Eco-solvent ink "CS100"
---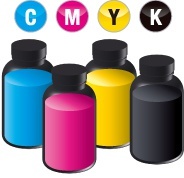 Reliable solvent ink "CS100" with affordable price
CS100 ink, available in 2-liter bottles, is not only more affordable than conventional ink cartridges, but the ink has exceptional stability and low propensity to clog nozzles. The CS100 inks also bring the same high Mimaki standards for color accuracy, image durability and weatherability found in conventional Mimaki solvent inks.
---
Reliable maintenance capability
---
Maintenance capability
The printhead is maintained in good condition by proven nozzle maintenance capabilities including pressure purging*1, automatic suction*2 and automatic wiping*3.

*1. A pressure is applied to ink and the ink is jetted from the printhead.
*2. When the printhead is on a cap, ink that remains on the head nozzle surface is suctioned.
*3. Nozzle surface is automatically wiped.
Nozzle recovery function
Without the nozzle recovery function, when printing and nozzle clogging or failure occurs that could not be resolved by the nozzle cleaning function, printers have to wait stop until the Mimaki service team arrives. When it comes to this function, even if nozzle washing has no effect on a troubled nozzle, the print image quality can be retained immediately without slowing down the print process.

* The recoverability of this function is limited.
---